BTS: What a Wedding Planner Really Does on Your Wedding Day!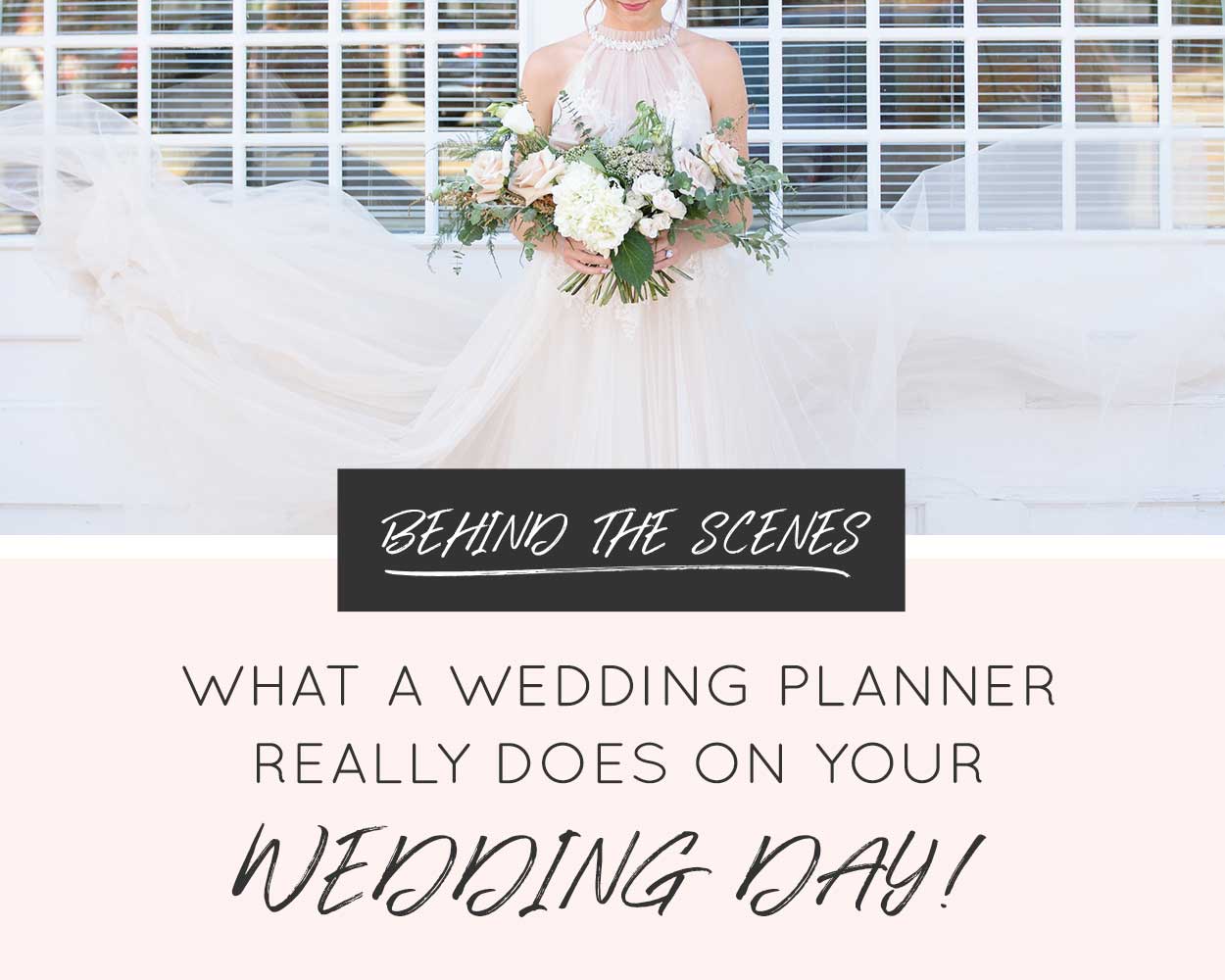 During one of our last client consultations the question came up of what services we provide during the wedding day. So I wanted to take some time to give a behind the scenes look at some of the duties we take on during your big day!
Whether you hire us for full service wedding planning, partial wedding planning or month of coordination, our role on your big day stays the same. We make sure your vision comes to life and take care of all the logistics so you can enjoy your wedding day.
The Timeline – AKA Our Bible
By the time your wedding day has rolled around we have created a very detailed timeline – From the start of the ceremony to the final dance no detail is missed. But in order for the timeline to work you need to use it!
Our team works with vendors and the venue to make sure everyone knows the game plan. Depending on how elaborate your traditions or activities are, staying on time can be a challenge. We give you gentle reminders throughout the day to make sure you don't miss any special moments.
Need to make an adjustment? No problem! Any changes are communicated to the appropriate parties to make sure the day continues to run smoothly.
Setup & Teardown
The level of setup and teardown service we provide can range greatly depending on your venue, decor choices and the package you ultimately book us for. But our job is always to help you fill in an areas the venue does not include and to make sure all your decor details are where they should be.
At a minimum, all wedding packages include basic guest table setup (menu cards, napkins, favors, etc.) and placing all your personal items (place cards, card box, misc signage). We also make sure any vendors you have hired are setting up in the correct location and that they have provided what was specified in your contract.
Have a specific look in mind? From lantern installations to custom backdrops, we love a challenge and are always open to taking on specialty projects. Just let us know what you're looking for and we will put together a custom package for you!
Emergency Situations
As professional wedding planners, we are always prepared for something to go "not as planned". This can be as simple as a personal item being forgotten to a vendor not showing up. Being on our toes is something that we pride ourselves on and we love that our couples put so much trust in us to make their dream wedding a reality.
So how do we stay prepared?
Emergency Kit:

Our number one go to is always our emergency kit. Stocked with almost any tool you can think of!

Tag Team:

All wedding packages include at least two staff members. This helps if we need to make an emergency off site trip or need an extra set of hands.

Experience:

We have over 20 years of combined event experience and there are some things that you can only learn hands on.
Have Questions?
We hope this gave you some insight into what we actually do on the day of your wedding! This is by no means a complete list. Feel free to contact us if you have questions. We would love to chat with you!